We hear often, "Drink more water." But for what reason?
Plain water has no nutritional value regarding calories, nutrients, vitamins, and minerals unless fluoridated. And we are supposed to drink more of it?
Even though water lacks nutritional value, it helps to supply the body's cells with nutrients from foods and aid in digestion. It also helps dissolve vitamins and minerals to make them more accessible for critical body processes.
Water can help achieve and maximize the body's ability to allow the additional functions, which are identified in the picture below. These include regulating body temperature and helping deliver oxygen throughout the body.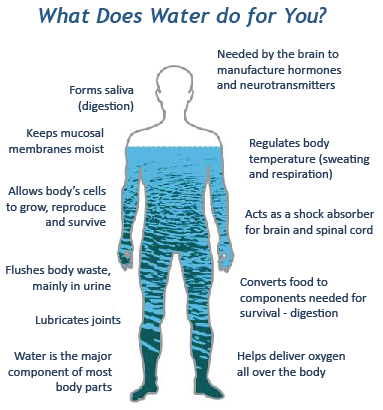 With almost all of the major body systems depending on water, its consumption seems pretty important now, right? And not to mention, vital to sustain life!
How Much Water Should I Drink?
Adult men are advised to drink about 15.5 cups (3.7 liters) of fluids per day. Women are encouraged to drink 11.5 cups (2.7 liters) of fluids daily. However, water is advised to be the governing hydration source.
The general recommendation is eight, 8-ounce glasses cups (64 ounces) of water a day. However, other factors that influence daily water intake are physical activity and certain and conditions.
Individuals who include rigorous exercise in their lifestyle patterns should aim for at least nine cups of water, or 72 ounces. Conversely, specific health conditions may require fluid restriction, including congestive heart failure and kidney disease. Some medications may also cause a dry mouth and dehydration.
Drinking this volume of water may seem overwhelming, but it does not have to or should be.
4 Easy Tips to Drink More Water Daily
From using larger cups to making it more convenient, ensure adequate water intake with these easy tips.
1. Use larger cups for greater water intake.
Using a larger cup can ensure drinking more water. But look for a cup that can hold plenty of water but fits in your lifestyle. Because if a cup is too big, carrying it around can feel like a chore.
Choose a cup that would be easy to always fill and carry. Some reusable water bottles also have markers indicating the amount of water held that can make water-tracking simple. Try to make it a goal and challenge to have at least half the bottle drank by lunchtime.
And any time the cup or bottle empties, fill it back up!
2. Take advantage of flavor enhancers.
Plain water may get a little boring... The good news is numerous flavor enhancers are found on the store shelves. But also choose a sweetener by taking advantage of the ingredient label, as some may contain added sugars.
Also make your water better using a more natural approach. This includes adding fresh herbs and fruits, including berries, watermelon, and cucumber slices. Eating the fruit with a high-water content will also provide extra fluid and nutrients into the diet.
Steeping with tea bags and freezing flavorful ice cubes can also add oomph to your next cup of water.
3. Make drinking water convenient.
Keep water in places you frequent as a constant reminder to drink more of it. Here are just a few examples to drink water more conveniently throughout the day:
• Pour and drink a glass of water while waiting for that pot of coffee to brew
• Have a bottle of water readily accessible for your morning, afternoon, and/or evening commutes
• Sip on a glass of water when cooking in the kitchen
• Keep a jug of water at your desk at work
• Have a full glass of water when taking any supplements and/or medications (unless noted otherwise)
• Pack a water bottle in a purse, backpack, bag, etc.
• Drink a glass of water after brushing your teeth
• Remember to bring a water bottle to the gym
4. Order water at restaurants.
Restaurants and fast food are utilized frequently in this busy, social society. A soft drink tends to be included in the meal, so why would free water substitute a sodas place? If giving up your soft drink is out of the question, that is fine. But order a water every time as well.
Not only will water consumption increase, but it could lead to a decrease of soda intake. But try to also limit foods and drinks filled with empty calories, including soft and energy drinks.
Be mindful of alcohol, too, as it can lead to dehydration. If deciding to drink alcohol, men are advised to keep alcohol consumption to no more than two drinks per day. Women should limit intake to one.